Changed my keys today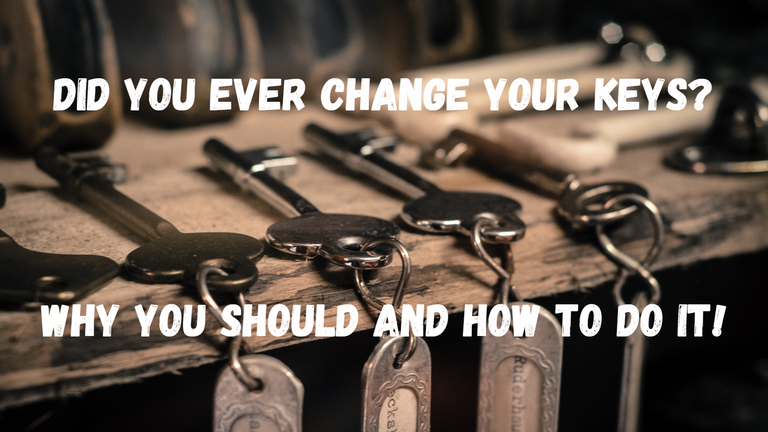 Designed in Canva

I guess we all saw the special edition of HIQ Magazin Vienna Gate from about six days ago.
While reading that article I became once more aware of the fact, that anyone who might have my keys also has access to those functions in my account. They could post, vote and take out funds.
I created my account over a year ago by signing up as a Splinterlands player. The concept of Hive was totally hidden to me, I had no idea what was going on. I logged in with my email and password as I would to any other "normal" gaming site.
At some point I ventured out onto the blockchain and there was this option to get the keys in an email. I set up the keychain extension and little by little the concept of Hive and its inner workings started to reveal itself to me.
Yet all this time I feared changing my keys. Why should I? I can trust Splinterlands, right? And it's a convenient way to "recover" them, simply let them send me another email.
Bullshit! That has only been the attempt of rationalizing a decision made out of fear. The fear of locking myself out. What if I make a boo boo while changing keys? Everything will be lost! All the cards, all the tokens, all the Hive. No no, better not change a running system as they say. And keep on telling yourself some other better reason why it is all good as it is.
To close the circle of thought: Vienna Gate was the final clue: Change your keys! If Splinterlands should get compromised in any way, then my keys are compromised as well.
Hannes, get your account in order and secure!
Yes, it seems dangerous at first glance because you have never done it but it needs to be done.

So I hatched a cunning plan. For only three Hive I created another account through the peakd interface. That is not much to pay to go through the process of changing keys as a test run to see how it really works and if/where the kinks are. And I needed that account for some other project anyway (to be announced in a few days, be patient).
So I did and I have to tell you: WOW, that is easy!
If you are still reading this you are either someone with prior experience having a good time reading about a nooby adventure (glad I can entertain you) or you are in a similar situation and maybe want to learn from my experience. For those in the latter group:

How to change your keys
Step 1: Sign into peakd.com
Yes, I used peakd for this. It guides you through the process in a very neat way. Look, I even brought pictures with me.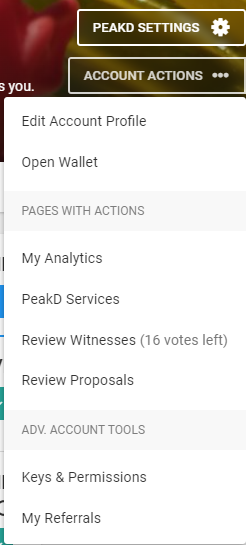 On your own profile page you find the Buttons "PEAKD SETTINGS" and "ACCOUNT ACTIONS". If you click the three dots next to "ACCOUNT ACTIONS" you find the entry "Keys & Permissions" at the bottom. That is where we need to go.
Step 2: Get your owner key ready
If you do not have your owner key but the master password, then you can now hit the Button "REVEAL ALL KEYS" at the bottom. A Pop up asks for your master password and if that is correct your owner key will be shown here.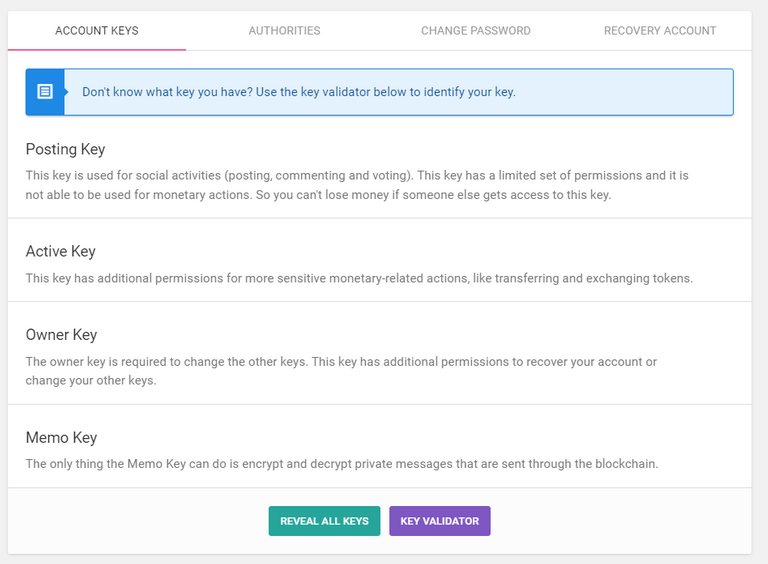 If you do not have your owner key and you do not have your master password, then you have a problem. Without any of those you can not change your keys. Contact the person that created your account or the front end you used for that.
Remember, Splinterlands for example, has an option to send you these things in an email.
Now on to:
Step 3: Get ready for change
Now we have to switch to the entry "Change Password":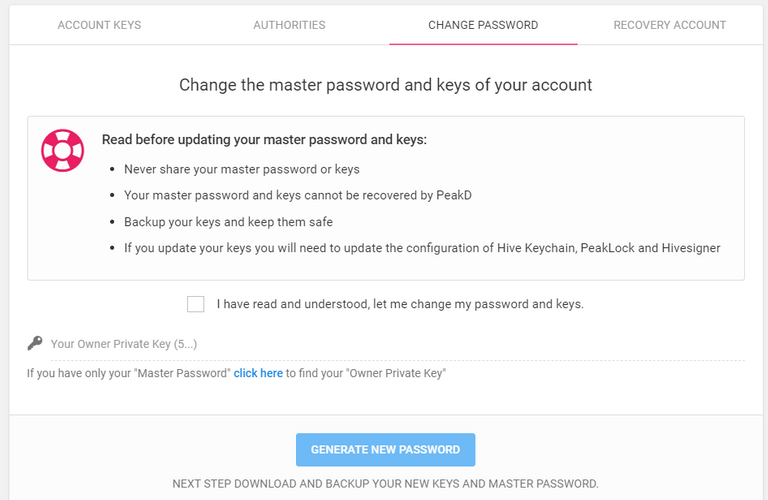 Enter your private owner key in the field (the private one is always starting with a 5) and hit the checkbox.
Take one deep breath and click "GENERATE NEW PASSWORD".
Step 4: Backup the new keys
Now a popup appears with your new keys. Obviously no (complete) screenshot for you at this point. Sorry. It would show the new keys. But notice the red banner:

And there is a Button to download the keys in a text file directly on to your hard drive.

Maybe send them to printer as a hardcopy to keep safe somewhere?
Wherever you keep this information, remember: Whoever gets it has your keys and therefore the power over your account!
And another important fact: Until now you have not changed your keys yet! You can still hit the "BACK" Button and all this never happened.
Step 5: Change keys
But if you saved the keys, then go ahead and click the checkbox that you did so and hit "UPDATE KEYS".
Now you have changed your keys.
Congratulations.
Step 6: Update your keychain
Finally you will have to bring your keychain extension up to date. The most simple way is to just remove the account information and put it back in again with the new master password.
Since that is something you should have done before I won't go into details for that process here.

Well, that's about it. Maybe you had your posting key entered in a few sites (Using rent golem maybe?) so remember to swing by and give them an update as well.
In conclusion: Now that I know how easy it is I feel a bit silly not having done so earlier. But that is now behind me. The biggest relieve was in the fact that I was presented the new keys to keep them save before any change was initiated. If a blackout had happened or internet connection went down, no harm done. Simply wait until everything is up and running again and start the process from the beginning.

Thank you for reading, I hope I either entertained you a lot or taught you something new today.
---
---