Music & Shows on Hive - Today: Raven's Streaming Café - ASIA LOFI
(Unsupported https://www.vimm.tv/cryptoradiofm/embed?autoplay=0)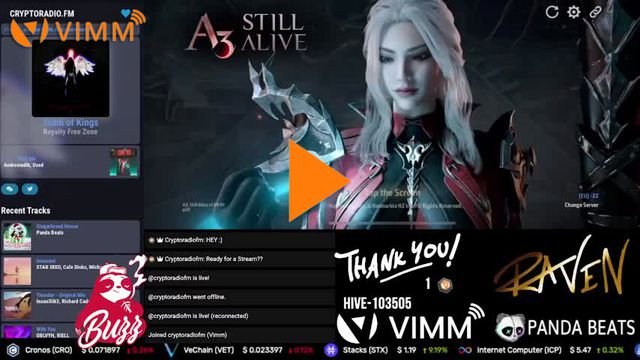 Category: Music
Click here to watch the live stream!
---
Ladies and Gentlemen, let's party! Saturday at 8:00 PM, and Sunday at 8:00 AM London time, we have @ravenmus1c's Streaming Café with Asia Lo-Fi.
We had to stop the 24/7 streaming on @VIMM, because @patlebo is moving home, and he has 3rd world issues with water, electricity, and internet connection, of course. So he tries to stream just the important shows, as stable as possible. He's also super envious of all his friends that preordered Diablo 4 and can now play the closed beta.
And so, we look into A3: Still Alive, a Play2Earn ARPG, MMO, PvP, like Diablo, from Netmarble. It has a great user base, and the game has very deep mechanics. It can be overwhelming in the beginning, but if we just go with the quests and events, we will be introduced properly.
So let's see how long we can stay online, and if "A3: Still Alive" is playable while listening to chilled Lo-Fi music. Sounds cosy, feels good, what a weekend experience ;)
---
This post was generated from a live stream on
VIMM
---
---