IT's time to BURN! Slothin along, singing my song, burning all day long!

Join the 9/5 working Sloths, or set a fire under yourself and BURN some tokens!

Yo! SlothBurn, Note to yourself, make sure this is a burn post!
Check!

It's a beautiful Friday, the tokens are on FIRE! Well, they will be when we BURN them!

The main goal of this account is to BURN tokens! The benefit of doing so on Hive, using a "normal" account, means not only do I burn Hive tokens but also Hive-Engine tokens, like (Slothbuzz, MEME, LEO and POB)
---
Let the burn commence!

In a change to regular scheduling, we forgot to make the last burn update a burning post! We did edit and comment on the post to highlight the fact! Sorry Buzzers, we aim to do better!

This does mean, we get to burn some tokens manually!! The previous post earned, 2.3 Slothbuzz, but we get sent half staked, half liquid. So, unfortunately, we can't burn the staked slothbuzz! We have however sent the little extra dust we had in our wallet, so have burnt 1.5 Slothbuzz tokens! Plus 1.5 from a couple of days ago! We're here to burn!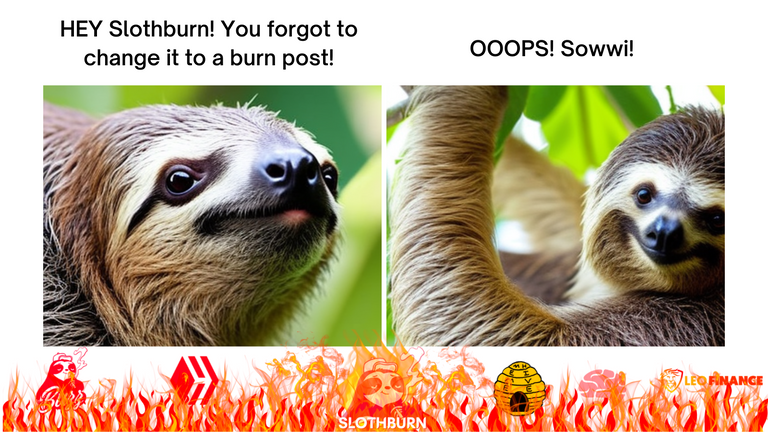 We've staked everything else to give the account a little boost! Hopefully we can make up for those missed burns by getting an even bigger burn in the following few posts!

You know what to do, smash that like button, watch the tokens burn! Author rewards are burnt, you KEEP curation rewards! Well worth smashing that button!
---
Total SlothBuzz burnt so far!

@null (Hive's burn address) currently holds 404.6 plus 21.6 staked, for a total of 426.3 burnt SlothBuzz Tokens!
9887.5 SLOTHBUZZ in circulation (including @Null)
426.3 Slothbuzz burnt/@null!
= 9461.2 SlothBuzz is currently in circulation!

If my sloth math is correct, that's about 4% of the minted supply burnt (Or 0.0001% of the total supply!)
---
Buyback and Burn
Still not many bites on our slothbuzz buy order! No one wants to "dump" there tokens on us! Some of the sell orders expired, so we've added them back in with a slightly lower price! All sales gotowards buying back more slothbuzz!

We'll increase the price if our sales orders are sold out, or the buy order time expires! Plenty of time for you to decide what to do with your $Slothbuzz!

---
Currently @SlothBurn has some delegated HP, SlothBuzz, LEO, POB and Meme tokens. Feel free to delegate any of the above tokens to this account, which will increase the voting power and potentially the burn amount of each token!

Tokens that could be burnt via this post will rely on the Tags added. The main tags used will be:

Want to add more tokens/ Tags? Let me know and we can try burn those too!


SlothBurn is an account focused on BURNING Hive tokens. Both Hive and Hive-Engine tokens. All Posts should be burn posts, so all author rewards are burnt! This account follows some curation trails so it can earn curation rewards and continue to power up to BURN more tokens!
No financial advice, no chance of earning from this account (other than curation rewards!) This account is designed as a fun account to play with tokenomics and the burn features of Hive.
---
---