Have some fun - Burn it up, Let slothburn it up! BURN POST!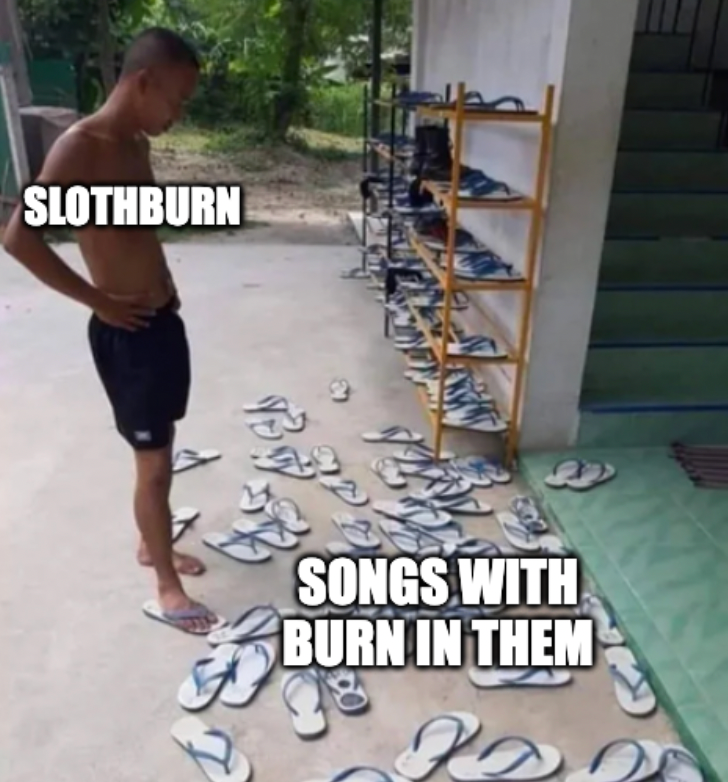 Thinking of new ways to BURN them all!
Happy Thursday Burners! What a day! Snow / Sun / Wind and burn!
Who actually reads these posts?
Leave a comment with a song with the word 'Burn' in it if you do!
Idea based on Hannes-Stoffel's recent comments!! Although, I tend to use some lyrics from songs in my openings, did anyone notice?
The main goal of this account is to BURN tokens! The benefit of doing so on Hive, using a "normal" account, means not only do I burn Hive tokens but also Hive-Engine tokens, like (Slothbuzz, MEME, LEO and POB)
---
SlothBurn Curation / Votes.
As this account BURNs all author rewards, we only earn from curations. So, we've started a vote for delegation system. Delegate HP, we'll add you to our vote trail! Highest Delegation = highest vote, then we'll drop 5% per user, down to around 5-10% minimum! (Min delegation 50HP)
Delegators will be added to the "fanbase" however we'll actively monitor the content to ensure it's of decent quality, we don't want to "spam vote" poor-quality content! This account currently has some HP, LEO, MEME and SlothBuzz delegations, so you can earn a little of all of those from us!
As a slothy bonus, delegate up to 10 SlothBuzz tokens, and we'll add another 1% per 1 slothbuzz delegation! As it's staked to your account, then delegated, you'll still be able to earn NFTs and Tips via the slothbuzz discord bot AND use the !SLOTH command to your favourite posts! (I hear the buzzers are going to announce this properly later, oops!)
This should allow us to earn a little more SlothBuzz to sell, then we can add to the buyback wall! On with the burn!
---
Let the burn commence!

Let's see what we burned!
0.78 Slothbuzz
0.030 HBD and 0.076 HP
0.068 LEO
2.4 POB
227 MEME
---
Total SlothBuzz burnt so far!

@Null - (Hives burn address) burnt 445 slothbuzz!

Current circulating supply = 9707
---
Buyback and Burn
Still not many bites on our slothbuzz buy order! No one wants to "dump" there tokens on us!
We'll increase the price if our sales orders are sold out, or the buy order time expires! Plenty of time for you to decide what to do with your $Slothbuzz!
BuyBack price increase! Keeping it sloth like, we've raised the price to 1.03! As we sold some token, we've also upped the buyback amount to 150 tokens! We'll continue to add to this as we grow!

---

Currently @SlothBurn has some delegated HP, SlothBuzz, LEO, POB and Meme tokens. Feel free to delegate any of the above tokens to this account, which will increase the voting power and potentially the burn amount of each token!
Tokens that could be burnt via this post will rely on the Tags added.

The main tags used will be:
Want to add more tokens/ Tags? Let me know and we can try burn those too!


SlothBurn is an account focused on BURNING Hive tokens. Both Hive and Hive-Engine tokens. All Posts should be burn posts, so all author rewards are burnt! This account follows some curation trails so it can earn curation rewards and continue to power up to BURN more tokens!
No financial advice, no chance of earning from this account (other than curation rewards!) This account is designed as a fun account to play with tokenomics and the burn features of Hive.
---
---