Dancing 💃 Dundee 🏴󠁧󠁢󠁳󠁣󠁴󠁿 Tree 🌳 Ladies for Reflection Hunters Contest
Hello Hello Hivians.
I have been meaning to share some of these pictures that I took last month.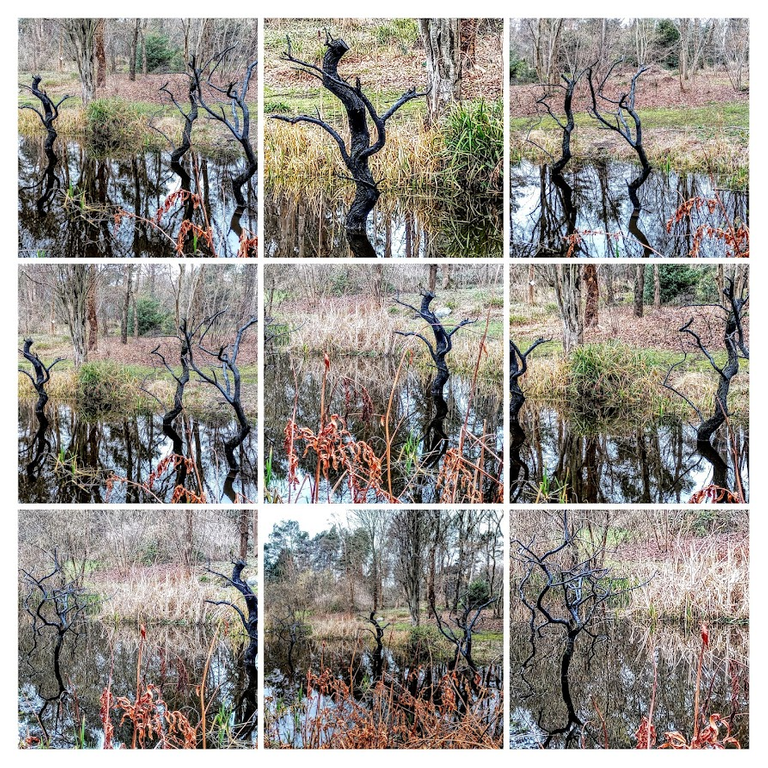 When we went to Dundee for a long weekend, we had a walk round the Botanical Garden. Even though it was winter, it was well worth the five pounds entry fee.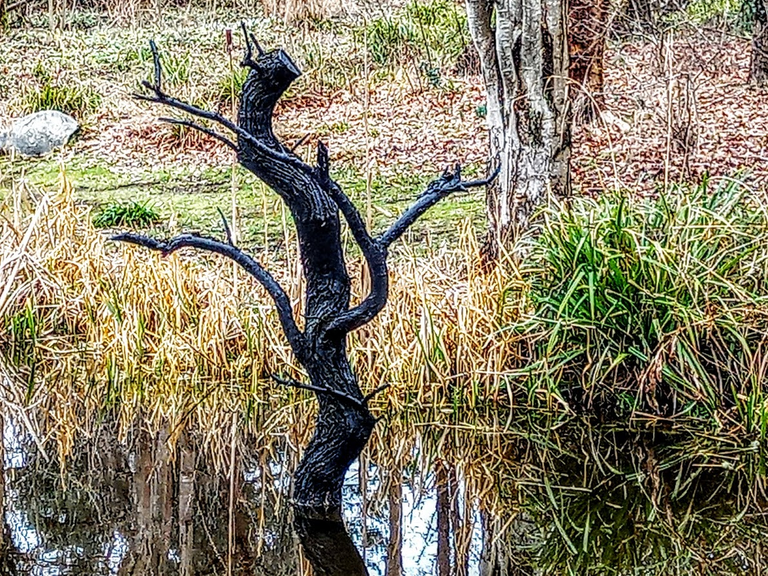 For those of you that know me, you will know that of the Archon communities, I more often than not post in #featheredfriends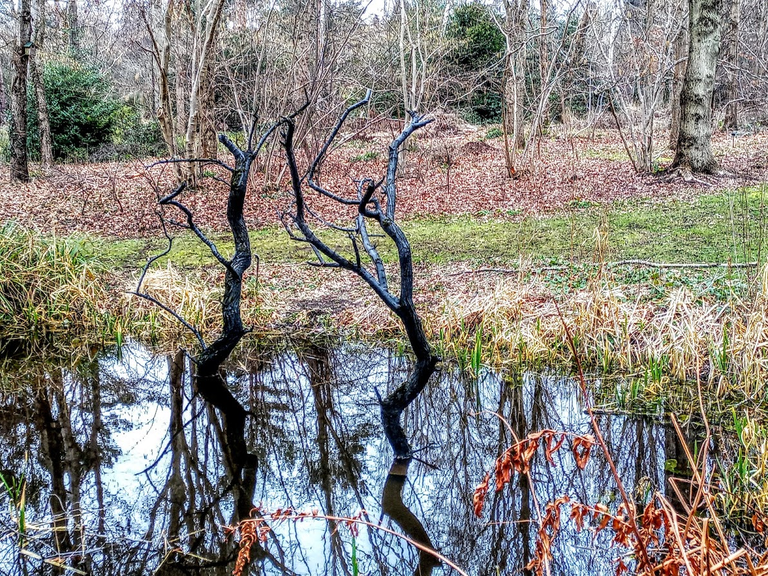 You might know that I do like to write some words or make a story from the pictures.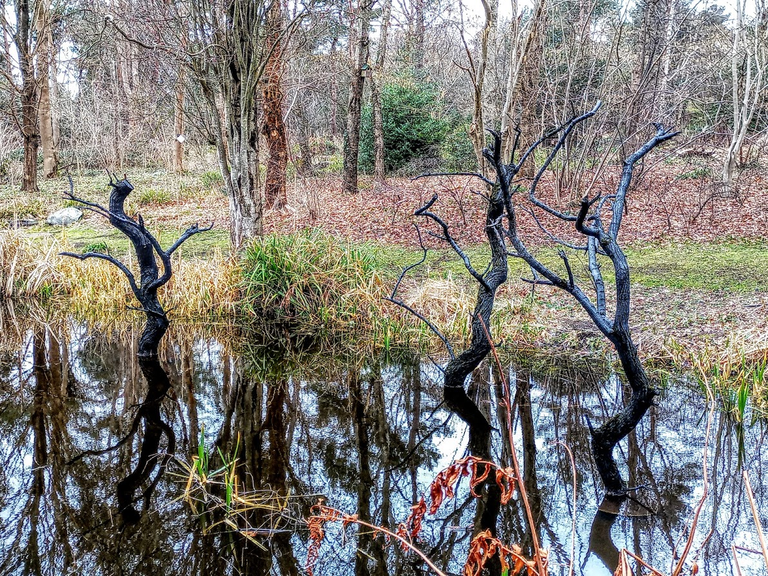 So what are these that I am showing you today?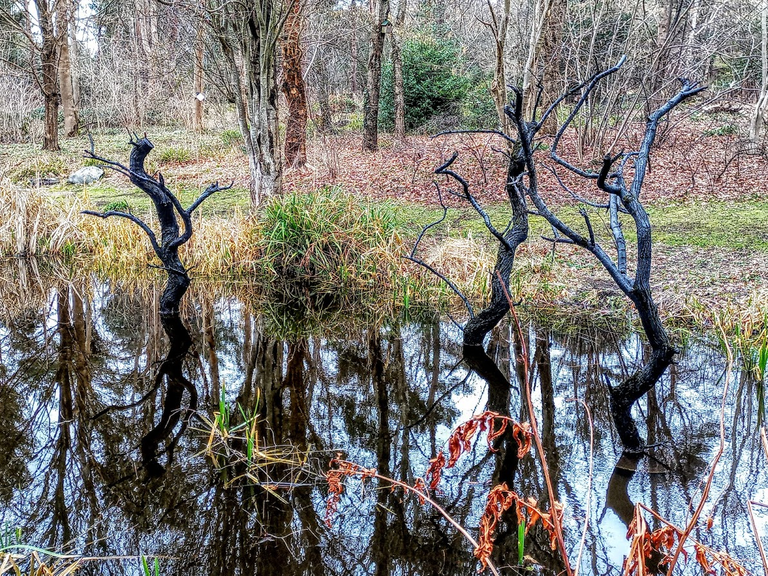 There was a pond at the bottom of the Botanical Garden and it had these black trees sticking up there.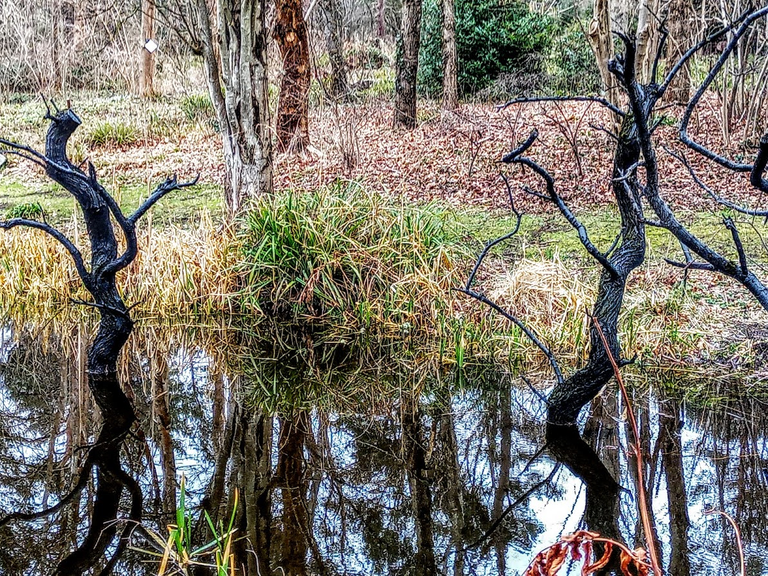 I presume they were painted black and there were five in all.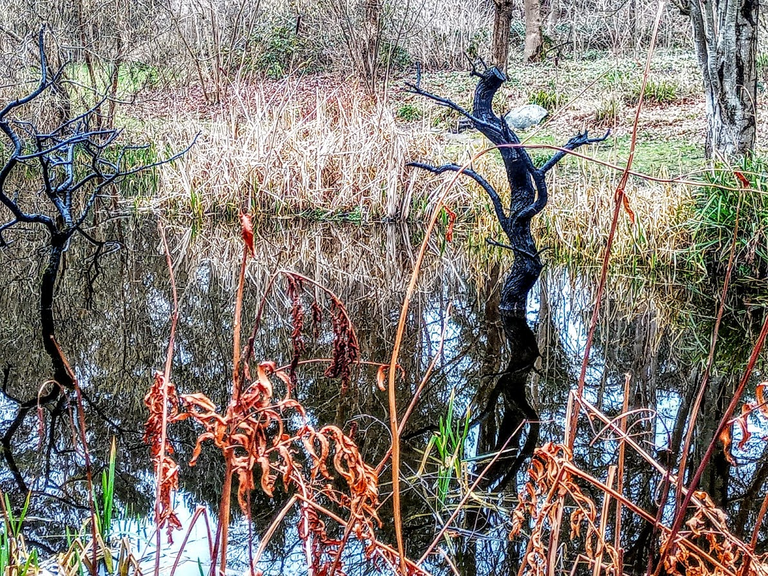 At first glance, they reminded me of my time working in Africa. Unfortunately oil companies used to be even more environmentally unfriendly compared to now, especially if they thought they could get away with it, such as was the case in West Africa where I worked.
The worst was Gabon, but Nigeria was just as shocking!
We had a couple of swamps that had been flooded from crude oil leaks. The result was black dead trees and stumps sticking out of the water liquid swamp. Sad it was to see.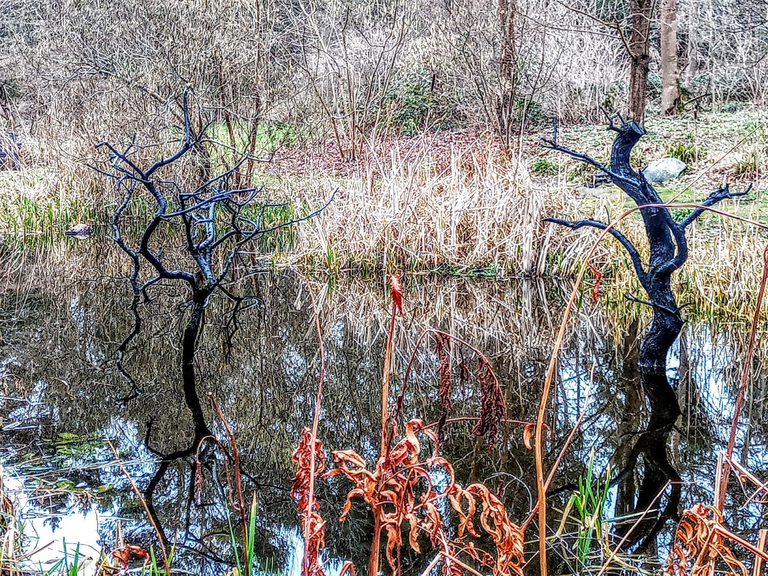 But if you know me, then you will know I look to put a positive spin on things.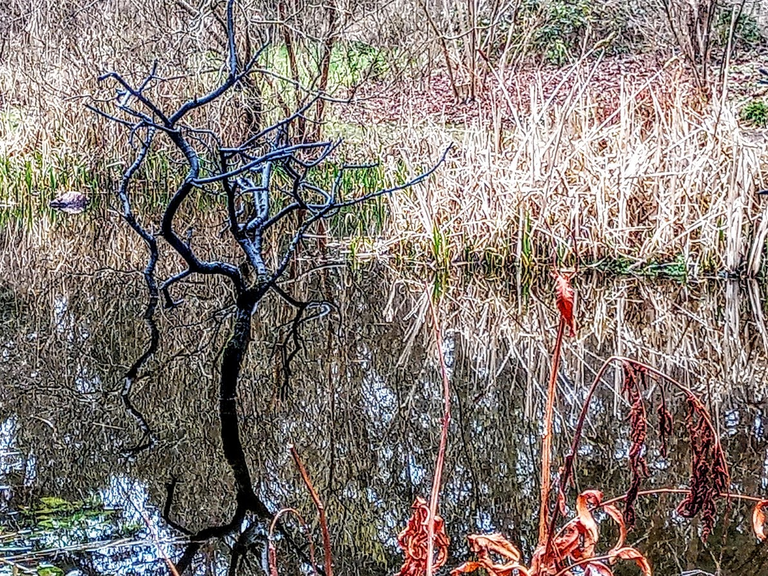 Rather than think of dead oil laden trees, I prefer to think of these tress as dancing ladies!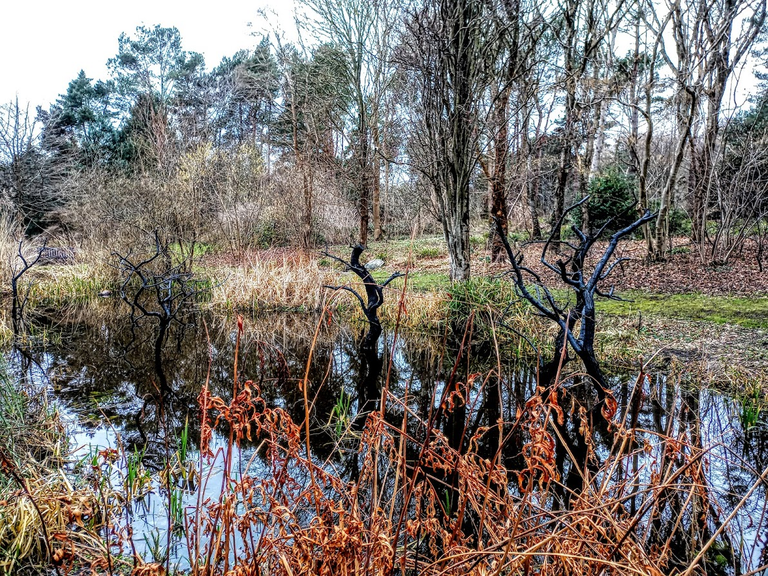 There you can see them dancing as group!
Can you see the lady inviting you to dance with her long boney finger?
Let's zoom in for a closer look shall we!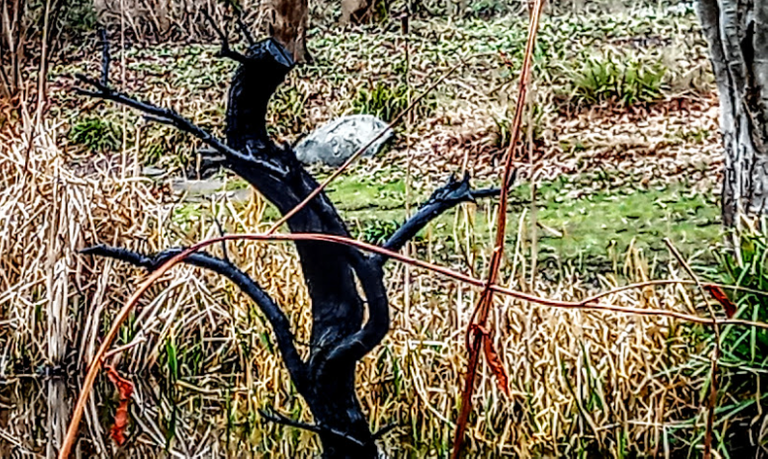 There do you see it on the right hand side ...
Come dance with me!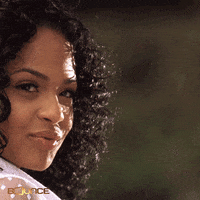 There is some fun, so not too much of a story for this post, but still fun with the dancing ladies!
Normally we have to nominate one picture for these sort of contests.
I know that I have joined in the Shadow Hunters contests before, but I think this is my first reflection one, maybe not. Fluff me! My memory is like a sieve sometimes!
Anyway I love all the pictures, but the one I shall submit is the last group one, it is quite hard to tell real from reflection, but I think you get the jist!
So the entry picture is this one 👇👇👇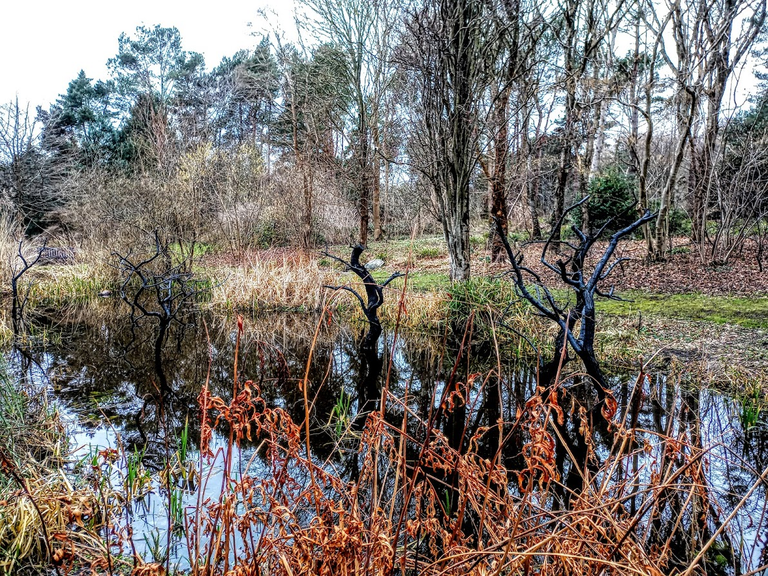 As we are talking about jist, the list how to enter this contest can be found by reading Reflection Hunters Contest ~ Round 106 Announcement 🎺! from the wonderful @olgavita
I hope that I have done this correctly 😎 and this is my entry TO THE REFLECTION HUNTERS CONTEST - Round 106
Thanks for visiting and enjoy the rest of your day!


All images and ramblings are from me, the mad Scotsman TengoLoTodo and pictures taken with my Smartphone. @tengolotodo March 12th 2023


DO WHAT YOU LOVE AND DO IT OFTEN
Haste Ye Back!
---
---