Sloth playing catch up! It's time to give out some DOOM and SLOTHBUZZ tokens! MEME on!
Good morning Buzzers, Happy Tuesday! Sloth being a sloth this week and running behind with what needs to be done! So let's play catch up as always! As mentioned in our previous post @Hannes-Stoffel WON our meme contest! However, we still have a few Daily Prizes and Weekly raffles to cover!
We can't wait to restart the meme contest on Monday 13th! It would seem Hannes is excited too! He created the perfect MEME for the meme room as a placeholder!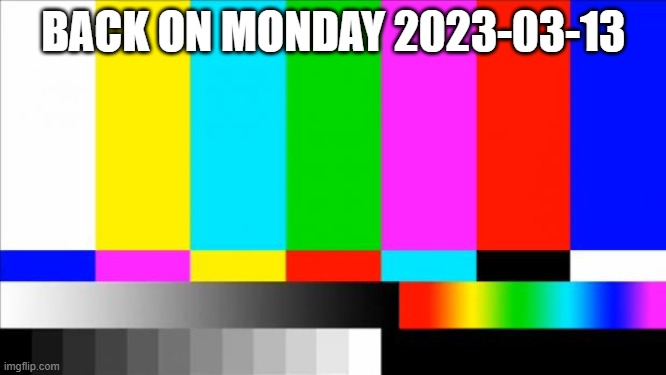 Hannes-Stoffel MEME
Join the SlothBuzz MEME contest in Discord
So, let's jump in and recap this week's Daily and Weekly winners!
DAILY THEME
After @acidtiger won Monday, Tuesday (shared with Hannes) and Wednesday, can anyone challenge his daily meme prowess?
| Day | Theme | Winner | MEME |
| --- | --- | --- | --- |
| Thur | AI BOTS | Acidtiger | |
| Fri | BOOM | Herman-German | |
| Sat | | NO MEMES posted?!?!? Things went BOOM! Hannes WINS the main event!!! | |
| Sun | WAX | Herman-German made us LOL with this, we'll include it even thought it's "after event finishing" | |
---
---
Daily/Weekly Prizes:
Weekly Raffle x2
Raffle Prize: 100 DOOM + 0.1 SlothBuzz tokens.
One for memers AND one for the voters!
Just add your memes AND/OR reactions to the memes in the meme-contest Discord channel!
DAILY PRIZE
This Week's Daily Prize: 50 DOOM tokens
Prizes will be sent soon:
Acidtiger x4 (150 DOOM)
Hannes-Stoggel x1 (50 DOOM)
Herman-German x2 (100 DOOM)
---
We're looking for new sponsors for the coming meme events! Curently THGaming are sponsoring the first week of Daily draws, with Pimp sponsoring the weekly Raffle for the next 5 weeks! If you'd like to donate a prize to the meme pool or sponsor a week of rewards (7x Daily Reward) and get frequent shoutouts for your project ask to talk to Sloth in Discord
---
Weekly Raffle
Last Week's prizes 100 DOOM tokens and 0.1 SlothBuzz!
The "Best Daily MEME" weekly winner is @Acidtiger Congrats! :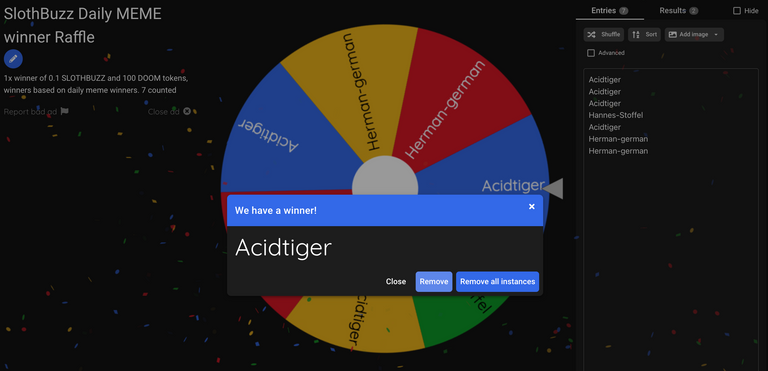 And the draw for VOTERS/CURATORS! Congrats @memess!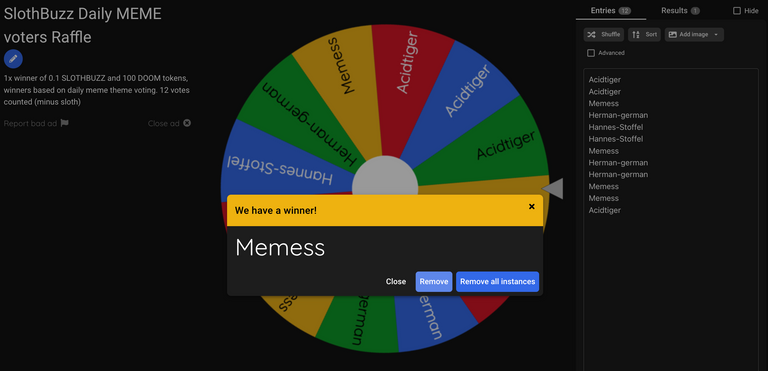 0.1 SlothBuzz and 100 DOOM tokens rewards coming your way in a sloth!
---
Join the Discord and prepare for the MEME contest!
---
Vote for SlothBuzz as a Witness
HiveSigner
Or Peakd/ Other voting pages, just look for "SlothBuzz" in the witness section! Remember you can choose 30 witnesses! We appreciate your vote!
More info about SlothBuzz and How it'll work as a witness: Here
Curator community feed
Content Focus
Support Small Creators
Gaming
Music
Creative content
Art
Photography
Some general use for memes, blogs, contests and fun!
---

SlothBuzz is a community Outpost on the Hive Blockchain, Helping small creators grow.
$Slothbuzz token is used for the Curation of Sloth.Buzz content.
Always DYOR before investing in any cryptocurrency and remember Sloth.Buzz does not provide any financial advice.
All content is the opinion of the authors and not representative of Sloth.Buzz.



Join the discord for events, games and post-promotion!n
Posted using sloth.buzz
Posted using sloth.buzz
Posted using sloth.buzz
---
---